Dragon Pearl Cruise 2 days 1 night
Day 1 : Hanoi – Bai Tu long Bay (Lunch + Dinner)
Meals: lunch and dinner | Accommodation:
Depart from Hanoi at 8.00 for a 3.5 hours drive to Halong City through the Red River Delta.
Upon arrival, get on board of the Cruise. Start cruising from Hon Gai pier to the boundaries of Halong bay while lunch with fresh seafood is served (vegetarian and kid's menus available).
After lunch, just make yourself at ease and relax. We are slowly getting off the classic cruising routes, far from the clichés of a busy tourism spot. Limestone rock formations will parade around us for about 2 hours before our first stop in Cong Do area.
We reach the perfect spot, remote and scenic, where the waters of Halong and Bai Tu Long hit and wave together. Let's get ready for a wonderful experience on a kayak. Let's get closer to the water and explore the bay in depth, paddle closer to the rocks and go to one of the many beaches in the Bay.
After one/one and a half hour kayaking, we get back on board to refresh and start the aperitif on the sundeck. The boat cruises to its secluded anchorage area. A fun cooking demonstration by our chef will be presented before dinner that allow you to make a simple Vietnamese dish that you can try before the main dinner that is served either inside or outside depending on weather conditions.
Enjoy a wonderful overnight on board in a cosy air-conditioned cabin with en-suite bathroom facilities.Overnight on Dragon Pearl Cruise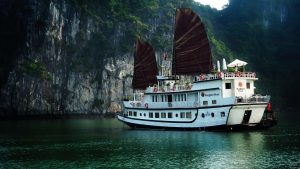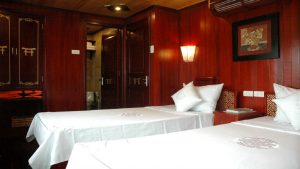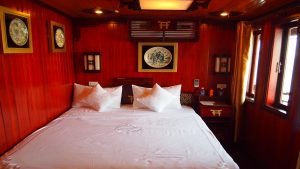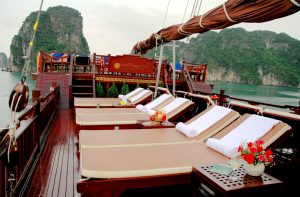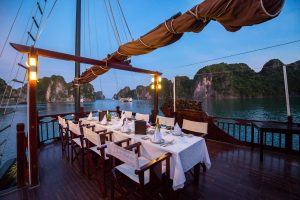 Day 2 : Halong Bay – Hanoi (Breakfast + Lunch)
We will be back at the pier about 11am, and driven to Hanoi with an expected arrival time about 4pm. The day will be short so let's wake up early to take the maximum of it.
Coffee, tea and cakes will be served from 6.30am. Wake up smoothly while witnessing the silence of beautiful misty bay. A 30-minute Tai Chi session will be organized, energize your body and soul or just allow yourself some time for a sunbath with a cup of coffee.
About 7.45am, we hop on bamboo boats to go visiting a secluded floating village surrounded by the mountains. We trace our way between numerous floating houses and small rowing boats that serve the everyday life as vehicle, itinerant shops, fishing utility, sometimes overnight shelter.
Back on treasure before 9am, we start cruising back to the pier. From 9.30am, a brunch will be served. Take a last glance at the rocks, standing still as the eternal guardians of a kingdom, we are about to reach the pier.
Once on land, we sit in a small café to wait for our overland vehicle.
Note
In line with our responsible vision of tourism, please note that we do not include the most popular caves of the bay in our program. We consider that they are an insult to heritage preservation.
Tour program is subject to change without prior notice.
For your convenience, and if you can arrange smaller backpacks, please leave your big suitcase at Handspan's secure storage.
On the way to Halong and back to Hanoi, we will stop at a place with food, beverages and souvenirs for sale. This is not to trick you and that will be the only times of the whole trip you may feel in the tourism mass. But that is the only place on the way, where you, your driver and your guide can use clean toilets without being forced to buy anything. Thanks for your understanding.
Dragon Pearl Cruise 2 days 1 night Included
Accommodation on Treasure Junk.
Car transfer 2 ways
Meals as specified in the program.
Kayaks and safety gear.
Tender boat.
Travel in an appropriate air-conditioned vehicle with an experienced driver.
The services of an experienced English-speaking guide.
All entrance fees.
VAT and other taxes.
Dragon Pearl Cruise 2 days 1 night Not included
Hotel in Hanoi for the last day.
Beverages, gratuities and personal expenses.
Individual insurance.
BOOKING REQUEST to : dragonpearlhalongcruise@gmail.com
Hotline/ Whatsapp : (+84) 397806128 (Ms Nhi)